Today's Featured Event........March 21, 2001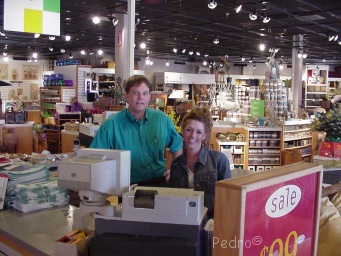 Pedro works the register!!
In anticipation of Hollywood personalities visiting soon...Pedro is anxious to finish his home decor makeover. However, finding himself low on funds he agrees to work the register at Pier One Imports© in exchange for four stylish, color coordinated place mats. Here the charming and lovely professional Importer, Amber, tests Pedro on his ability to count to ten and press the proper buttons. Easily trainable...Pedro masters cash register basics in several hours.
Read the latest on Pedro's visitors movie...
"We Were Soldiers..." starring Mel Gibson
Send your email request for Pedro's next Big Adventure to:
Hey Pedro, you Moron, Try This!
Yesterday's Big Adventure|