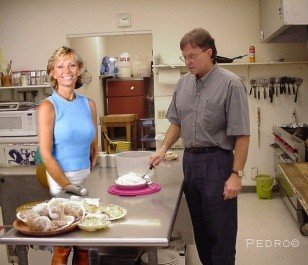 Chef Pedro....... !!
April 18, 2001
JoJo's Cafe....Midland

Among Pedro's many unsung skills is that of "Pastry Chef". Having dined at many of the haute cuisine bistro's such as the IHOP and Denny's, Pedro has earned the title as "Le Grande Chef de Pastry." JoJo has invited Pedro into her kitchen to seek his advise on her delicacies. Here, supervised by Survivor© winner Tina, Pedro cut's him off a slab of chocolate cream pie. Pedro's pronouncement......"Seems good enough to me"!!
New: PedroMation
Due to overwhelming International response, Pedro has added "Page 2 which will carry the "Archives," Guestbook and Information you can use, Pedro+Information=
PedroMation
[click here~Page 2]
Should you wish to suggest an adventure for Pedro please mail to:
Hey Pedro You Moron Try This